5 benefits of installing a cooker hood in your kitchen
Featured product: FUJIOH Cooker Hood FR-CL1890
There is no doubt that Malaysians spend a lot of time in their kitchen, cooking and preparing tasty foods, regardless of the time of day. Despite the design limitations in condominiums or apartments, most of us prefer to install a cooker hood in the kitchen to keep the space clean and odour-free at all times.
That being said, cooker hoods are available in a variety of styles and are designed to remove odours, irritants, and oil from the air. The suction fan in the cooker hood helps to filter the air in your kitchen and either recirculate or blows them out through the exhaust pipe.
If you're wondering how installing a cooker hood in your kitchen can benefit your household, you've come to the right place. In this article, we will discuss the five benefits of having a cooker hood.
Improves air quality
Better ventilation
Provides additional lighting
Improves kitchen cleanliness
Increases home value
1.   Improves air quality
When it comes to preparing and cooking daily meals, your kitchen will surely be one of the busiest rooms. As a result, it can produce plenty of unwanted smoke, steam, or particles that decrease the air quality in your kitchen and the surrounding areas. With a cooker hood, it can keep the air clean as the suction fan removes odours, smoke, grease, and other pollutants that are released into the air while you're cooking.
2.   Better ventilation

Featured product: Cooker Hood FR-MS1990, Gas Hob FH-GS2030, Built-in Microwave Oven FV-MW51, Built-in Oven FV-EL61
It's no secret that when you cook, you're exposed to excess heat from the stove and the surrounding area. One way for you to remedy this issue is by using the cooker hood to provide better ventilation in the kitchen. Besides, the cooker hood helps to absorb hot air from your surroundings and redirects it elsewhere, providing a more pleasant cooking environment.
3.   Provides additional lighting
Most of us usually rely on visual cues like colouring or texture changes in food while cooking. With a cooker hood that comes with lighting, you can monitor your cooking progress and serve the dish whenever it's ready. You also get to clean your cooking area more efficiently as the lighting enables you to see better, especially the dirt and grease in crevices and hard to reach areas. Instead of switching on all your kitchen lights, you can use the cooker hood's light, allowing you to save energy.
4.   Improves kitchen cleanliness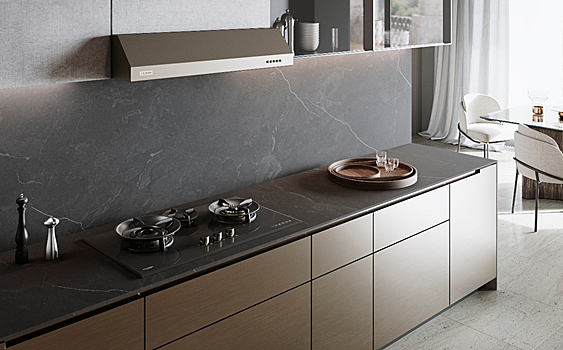 Featured product: Cooker Hood FR-FS1890, Gas Hob FH-GS7030
Grease and excess moisture from all your cooking sessions can create a sticky film that's difficult to clean. With a cooker hood, it can help minimise the settling of your unwanted cooking residues by absorbing the splattering, steaming grease into a concentrated area and through the hood ventilation system. This will eventually improve the cleanliness of your kitchen and help create a clean, comfortable cooking environment.
5.   Increases home value
A stylish and updated kitchen that has a cooker hood will generally win the hearts of property buyers as it adds to the functional decorative trait of the house. Besides, it can increase the resale value of your home. Therefore, you will need to choose the right cooker hood for your home based on the style and look of your kitchen.
So there you have it; the benefits of installing a cooker hood in your kitchen. Should you require more information on cooker hoods, get in touch with us at FUJIOH Malaysia or email enquiry@fujioh.my .