built-in vs freestanding gas hob: which is best?
Featured product: FUJIOH Gas Hob with Sectional Flame Control FH-GS6528
When equipping your kitchen with a gas cooking hob, do you opt for a built-in or freestanding one? Deciding between these two distinct styles can significantly impact not only the aesthetics but also the functionality of your kitchen.
In this article, we explore the factors you should consider in navigating your options and determining the best fit for your culinary haven. Let's dive in and discover the perfect gas cooker hob for your culinary needs!
What is a built-in gas hob?
A built-in gas hob is a kitchen appliance installed directly into your kitchen countertop or cabinets, giving it a sleek and streamlined appearance. It's designed with at least two burners at optimal positions and heat control with sectional flame control knobs.
Additionally, these built-in gas hobs are space-saving and ideal for kitchens with limited room. Once installed on the countertop, they free up additional space for other kitchen appliances or workplaces.
What is a freestanding gas hob?
Unlike built-in gas hobs, freestanding gas hobs are not integrated into your kitchen countertops. They are standalone units that can be placed anywhere in your kitchen, typically against a wall with a backsplash.
As such, freestanding gas hobs are popular among homeowners who prefer flexibility in placing the cooker hob. They're also easier to install than a built-in gas hob, as you don't need to hack into your finished carpentry.
Built-in vs Freestanding Gas Hobs: The Determining Factors
When choosing between a built-in and freestanding gas hob, you should consider the following factors to determine which is best for your kitchen and culinary preference.
Size and Space Considerations
Built-in gas hobs are typically installed into your kitchen countertops, which can be more space-efficient and create a sleek, seamless look. They are ideal if you have limited kitchen space or want to achieve a minimalistic design for your home.
Meanwhile, freestanding gas hobs are standalone units, so you must allocate a dedicated space in your kitchen. They work well in kitchens with more available space or in open-plan layouts where the cooker hob can be a focal point.
Design and Aesthetics
Featured product: FUJIOH Gas Hob with Sectional Flame Control FH-GS6528
If you want a streamlined and integrated appearance, a built-in gas hob can seamlessly blend into your kitchen's design. Most FUJIOH's cooker hobs come in toughened glass or stainless steel finishes, giving your kitchen a clean and modern look.
Meanwhile, freestanding gas hobs are typically made of stainless steel or porcelain-coated cast iron grates for durability and easy cleaning. While they can serve as a statement piece in your kitchen, they might affect your kitchen's seamless aesthetic, especially if you want a clean and modern look.
Installation and Integration
Installing a built-in gas hob typically involves more complex construction work, including cutting and fitting it into the countertop. It requires professional installation for a seamless integration into your kitchen.
On the other hand, freestanding gas hobs are relatively simple to install as they don't require custom modifications to your kitchen. They can be placed and connected to the gas supply and power source without extensive installation work.
Easy Maintenance
Built-in gas hobs are easier to maintain thanks to their flat glass surface, which prevents spills from accumulating in crevices or around burner edges. FUJIOH's gas hobs simplify maintenance further with its removable components, leaving only the aluminium alloy venturi. This allows for easy detachment and thorough cleaning for both surfaces and components like pot holders, burner caps, and grates.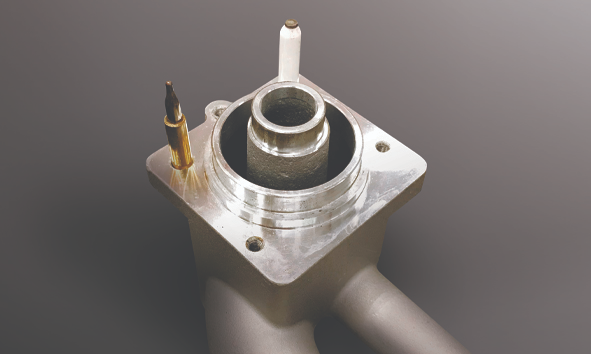 Featured product: Aluminium Alloy Venturi of FUJIOH Gas Hob – FH-GS65
Daily cleaning for a free-standing gas hob can be a bit more challenging compared to a built-in gas hob for several reasons. Firstly, not all free-standing gas hobs are removable, making it harder to access and clean certain parts effectively. Additionally, food residue and spills may fall onto the table, so you may even have to temporarily remove the hob from its location for a thorough cleaning, which can be less convenient than simply wiping down a built-in gas hob's smooth surface.
Safety Feature
FUJIOH's built-in gas hobs also feature a Flame Failure Safety Device, which will automatically shut off the gas supply if the flame goes out unexpectedly. This reduces the risk of gas leaks and fire hazards.
While this safety feature is also available on freestanding models, their placement can also be a safety concern if they are not placed on a stable surface. Users should ensure that the hob is placed on a level, non-flammable surface to prevent accidents.
Flexibility and Portability
Built-in gas hobs are a permanent fixture, making them less flexible in terms of portability. Once installed, they become part of your kitchen's layout. However, this prevents any unwanted hazards in the kitchen.
Meanwhile, freestanding gas hobs offer more flexibility and portability. While you can easily move them to a different location or take them with you if you move to a new home, this can be a safety hazard if your children move the hob without your supervision.
Deciding between a built-in and freestanding gas hob ultimately depends on a combination of practical considerations, aesthetic preferences, and your lifestyle. Assessing these factors will help you make an informed decision that best suits your needs and design aspirations.
Looking for a suitable built-in gas hob for your home? Visit FUJIOH Malaysia today!
Producing over 900,000 units of cooking hobs annually, FUJIOH holds the No. 1* household market share in Japan, despite being in the industry for 80 years. If you're looking for a gas hob, consider FUJIOH's range of kitchen appliances. For more information, contact us at FUJIOH Malaysia or email enquiry@fujioh.my.
*Fuji Industrial Group has the No. 1 household cooker hood market share in Japan. (April 2021 research by Tokyo Shoko Research, including ODM products)
* FUJIOH is a corporate brand of Fuji Industrial Group.