how to choose the best cooker hood for your kitchen?
Featured product: FUJIOH Cooker Hood FR-SC2090
When it comes to adding the final touch to your kitchen, choosing the right cooker hood in your kitchen can be your biggest challenge as you have a range of options to choose from.
What are the functions of a cooker hood?
As the name implies, a cooker hood is installed at a height above your stove or cooktop which functions to extract fume, smoke, and smells from your kitchen. This helps to keep the air in your kitchen clean and create a more comfortable cooking environment.
When you cook, you will inevitably create a form of air pollution in your kitchen that is more apparent during certain cooking methods. Aside from the fume, different cooking methods can also release water vapour and oil into the air in the form of grease. These can stick onto your stove or kitchen wall and create an unpleasant smell that can linger for a long time.
What are the things that I need to know when choosing a cooker hood?
Once you're convinced that your kitchen needs a cooker hood, you need to select the right one based on the following features:
1.   Type of cooker hood circulation
Cooker hoods have two types of circulation — recycling hood and ventilating hood. They differ in terms of how the air is filtered. If you live in an apartment, consider the recycling hood as it filters and recirculates clean air to your kitchen. It's also easy to install and requires no ducting work.
Meanwhile, if you live in a landed property, consider the ventilating hood as the exhaust pipe directs smoke and moisture directly out of your house, leaving your kitchen smelling fresh and clean always.
2.   Width of cooker hood
When you select a cooker hood, make sure to select one that is wider than your stove or has the same width as your stove. That way, your cooker hood can extract all the fume, grease, etc., giving you a cleaner environment.
3.   Installation height of cooker hood
Your cooker hood should be installed ideally at a height that can efficiently trap smoke and not too low to the point that it blocks your cooking view. The recommended height (from stove top) for a Chimney or Slim cooker hood should ideally be 750mm and 450mm for an Inclined cooker hood.
If your cooker hood isn't installed at the recommended height, it may result in accidents. So make sure to always check the manufacturer's recommended height installation.
4.   Features of cooker hood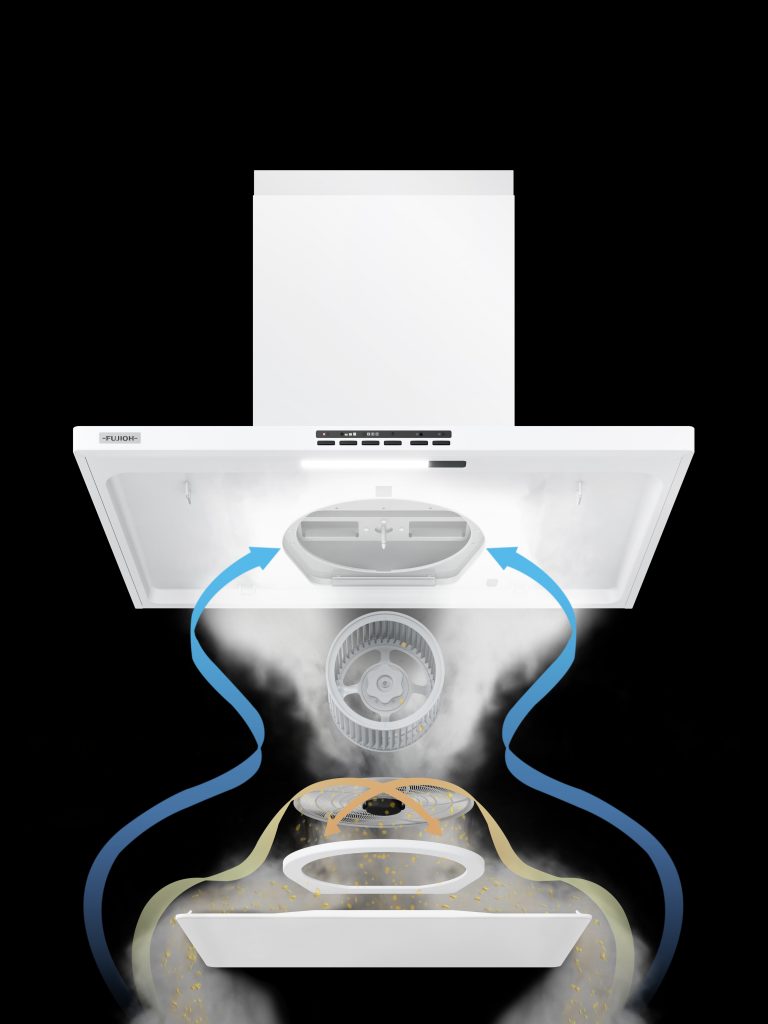 Every cooker hood is equipped with varying features that make them unique. But, oil and fume capturing is one feature that you should not miss as this ensures the highest level of cooking comfort.
In the case of FUJIOH cooker hoods, the patented Oil Smasher Technology features a high-speed spinning disk to capture oil from cooking fumes with high capturing ratio up to 94% and advanced fume capturing. It's also operates at a very low sound level; allowing you to enjoy cooking with your loved ones.
5.   Maintenance of cooker hood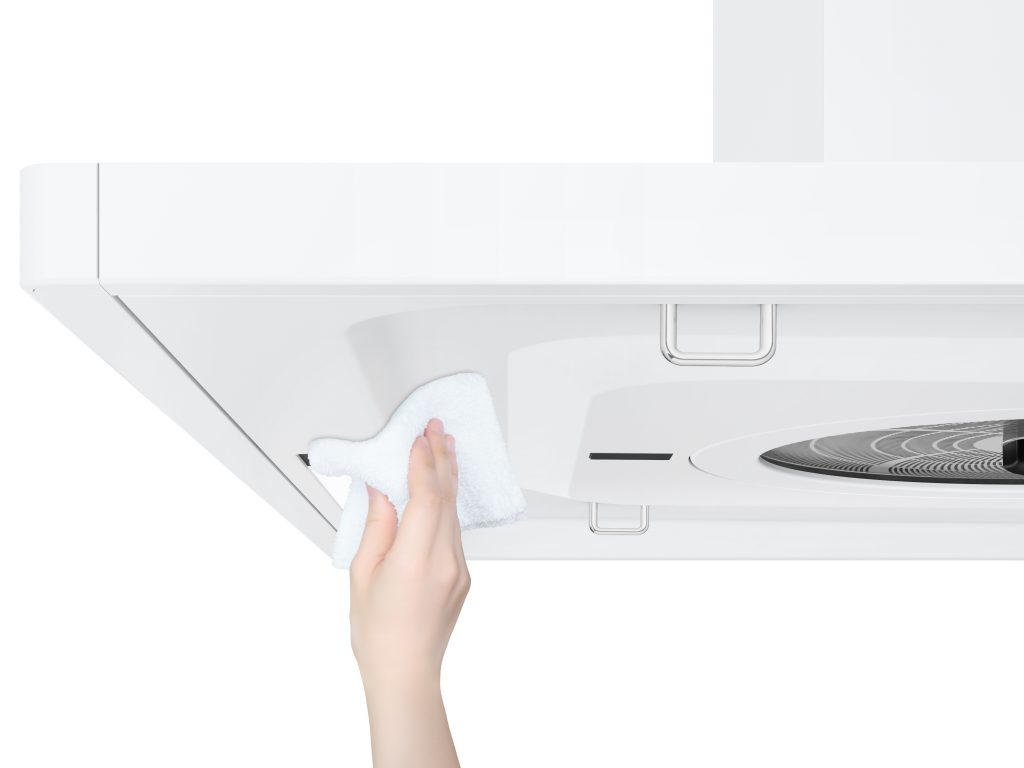 Like any other appliance, a cooker hood requires regular cleaning and maintenance to keep it running. Ideally, you should wipe the hood after every cooking session and clean the filters every 2 to 4 weeks. A clean fan and filter can help maintain the function of your cooker hood and prolong its lifespan.
For instance, a FUJIOH cooker hood has both washable and non-washable parts. The former includes the fan and filter which are coated with hydrophilic coating that enables water to wash off oil or grease easily. Meanwhile, the non-washable parts are coated in Oil Repellent Coating to ensure that the external body of the cooker hood is easy to clean.
6.   Design of cooker hood
Cooker hood plays the primary role in showing how the kitchen interior or environment should look like. Thus, you will need to consider the cooker hood design when selecting one for your kitchen.
Now let's take a look at what kind of cooker hood does FUJIOH — the No 1. cooker hood brand in Japan — has to offer to the Malaysian market.
Types of Fujioh Cooker Hood in Malaysia
Here are FUJIOH's Made in Japan cooker hood series with 3 different hood style that suit various kitchen layouts: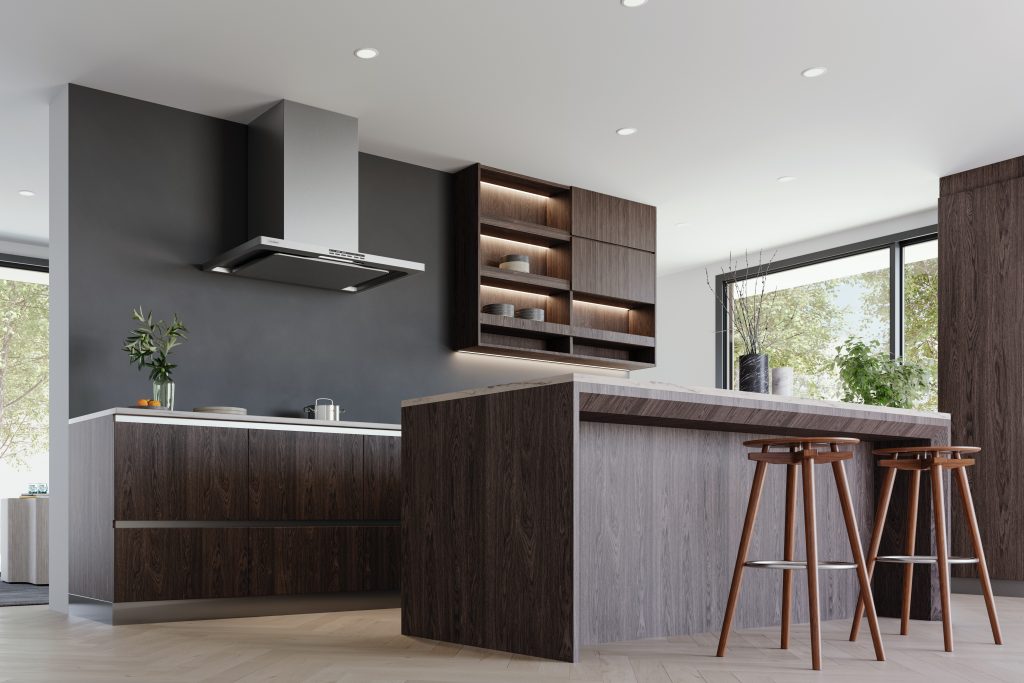 Featured product: FUJIOH Cooker Hood FR-CL1890
This is one of the most common types of cooker hoods available in Malaysia. Since it is attached to the wall with a chimney on top, it offers a higher performance suitable for a large kitchen. In addition, the FR-CL1890 features a patented oil smasher technology whereby the internal high-speed spinning disk captures the oil to reduce build-up on your kitchen surface.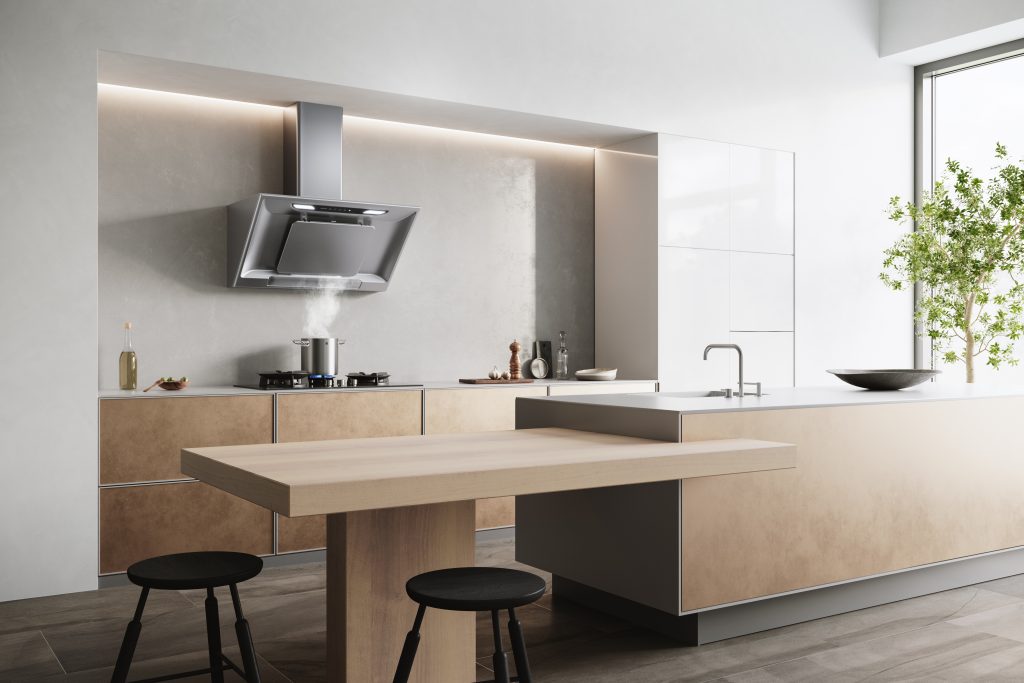 Featured product: FUJIOH Cooker Hood FR-SC2090
This type of cooker hood is essentially chimney style, but the hood is slanted to make a designer statement, making it the ideal fit in a contemporary kitchen. The lower positioning of the FR-SC2090 is also a balance of aesthetic, and smooth and efficient absorption of cooking fumes.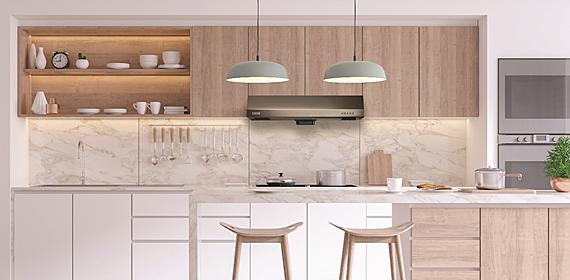 Featured product: FUJIOH Cooker Hood FR-FS1890
Different from the previous two types of cooker hood, the FR-FS1890 slim cooker hood doesn't have a chimney section, which means it can be installed underneath an existing cabinet as a space-saving solution. Its ultra-thin hood is deceptively tough on oil to reduce build-up on your kitchen surface! You can also install it on the kitchen wall without any cabinet around it, giving your kitchen a minimal and simple look.
With the features above, you can select the right cooker hood for your kitchen. Should you require more information on cooker hoods, get in touch with us at FUJIOH Malaysia or email enquiry@fujioh.my