your ultimate guide to buying a gas hob
Featured product: FUJIOH Gas Hob with Sectional Flame Control FH-GS6530
Cooker hobs are a central part of every modern kitchen. Whether you're a culinary enthusiast or a passionate home cook, it's crucial to have the right cooking equipment so you can enjoy home-cooked meals with your loved ones.
However, finding the ideal gas hob can be challenging, given the wide range of options available. In this guide, we'll take you on a journey to discover the secrets of selecting the ideal gas hob that will ignite and fuel your culinary prowess and transform your kitchen into a gastronomic haven.
Understanding the Versatility of Gas Hobs
Among the many modern stoves available, professional chefs and cooking enthusiasts have long favoured gas hobs for their unparalleled control and immediate heat response. For these reasons, gas hobs remain a lasting choice for passionate home cooks like you who value versatility and performance.
At the same time, they offer the following benefits that make built-in gas hob a popular option for passionate cooks:
Precision cooking – Gas hobs provide precise control over heat settings so that you can instantly adjust the open flames to your desired intensity.
Superior heat concentration – Gas hobs excel at concentrating heat, which leads to superior Asian-style stir-fry known as 'wok hei' due to their ability to generate excellent heat concentration.
Cookware compatibility – Gas hobs are compatible with a wide range of cookware materials so that you can use your favourite cookware without restrictions.
Cooking techniques – Gas hobs support a variety of cooking techniques, so you can easily switch between different cooking methods. For example, you can use high heat for stir-frying and immediately follow with low heat for gentle simmering.
Flame visual cue – The visible flame of most gas hobs provides a visual cue for you to gauge the heat level at a glance.
By understanding the versatility of a built-in gas hob, you can appreciate their unique qualities and advantages over other types of cooking stoves. Now that we've explored the benefits of gas hobs let's delve into the key factors to consider when buying a gas hob in Malaysia.
Factors to Consider in a Gas Hob
Number of Burners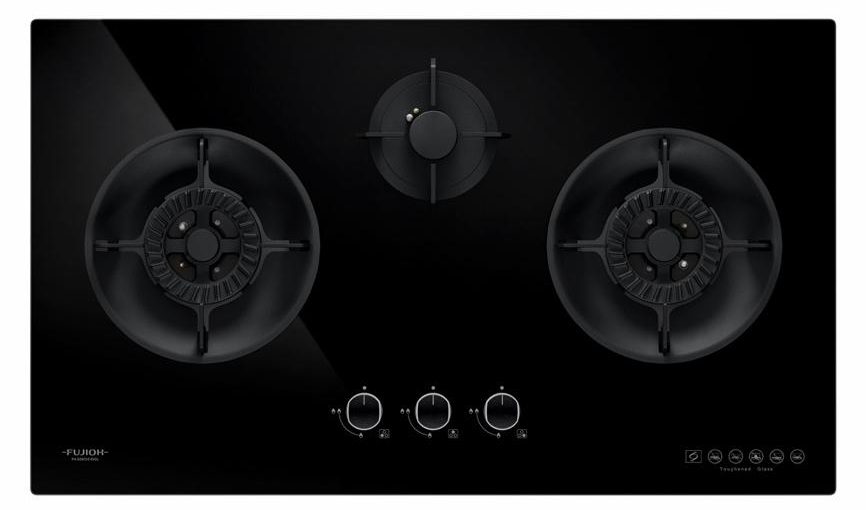 Featured product: FUJIOH Gas Hob with Sectional Flame Control FH-GS6530
When buying a built-in gas hob, you should consider the number and layout of burners on it. For instance, the FUJIOH FH-GS65 series comes with either 2 or 3 burners, which you can choose by assessing your cooking needs and whether you require a specific configuration, such as a combination of different-sized burners.
Type of Surface
FUJIOH gas hobs are available in two surface types: stainless steel and toughened black glass. When choosing a gas hob, it's important to consider the material and finish. If you value long-lasting aesthetic appeal gas hobs, opt for a high-quality finish like toughened black glass, which offers resistance against scratches, stains, and discolouration.
Size of Gas Hob
To determine the appropriate size of your built-in gas hob, you should measure the available space in your kitchen. Consider the width, depth, and height to ensure a proper fit. Alternatively, you can consider FUJIOH gas hobs, which provide flexibility in various openings. They're also suitable for use as a replacement gas hob.
Safety Features
Aside from the factors listed above, you should also check for additional safety features, such as Flame Failure Devices and Push and Turn Knobs. These features are available in the Fujioh FH-GS65 series gas hob and help to enhance the overall safety of your built-in gas hob while protecting you and your loved ones from accidents.
Ease of Maintenance and Cleaning
When buying a built-in gas hob, consider the ease of maintenance and cleaning. Look for gas hobs with removable burner caps and pan supports, as they are easier to clean. Also, check if the gas hob has sealed burners to prevent spills from reaching the internal components, making cleaning more manageable.
Budget
Gas hobs are available in various price ranges, so determine your budget range before you purchase while balancing the desired features and quality. Do note that investing in a high-quality gas hob can provide long-term performance, durability, and safety benefits.
By considering these factors, you can make an informed decision when purchasing a gas hob that suits your cooking needs, kitchen space, and personal preferences.
Looking for a suitable gas hob for your home? Visit FUJIOH Malaysia today!
Producing over 900,000 units of cooker hobs annually, FUJIOH holds the No. 1* household market share in Japan, despite being in the industry for 80 years. If you're looking for a gas hob, consider FUJIOH's range of kitchen appliances. For more information, contact us at FUJIOH Malaysia or email enquiry@fujioh.my.
*Fuji Industrial Group has the No. 1 household cooker hood market share in Japan. (April 2021 research by Tokyo Shoko Research, including ODM products)
* FUJIOH is a corporate brand of Fuji Industrial Group.