make a choice: top-mount vs undermount kitchen sink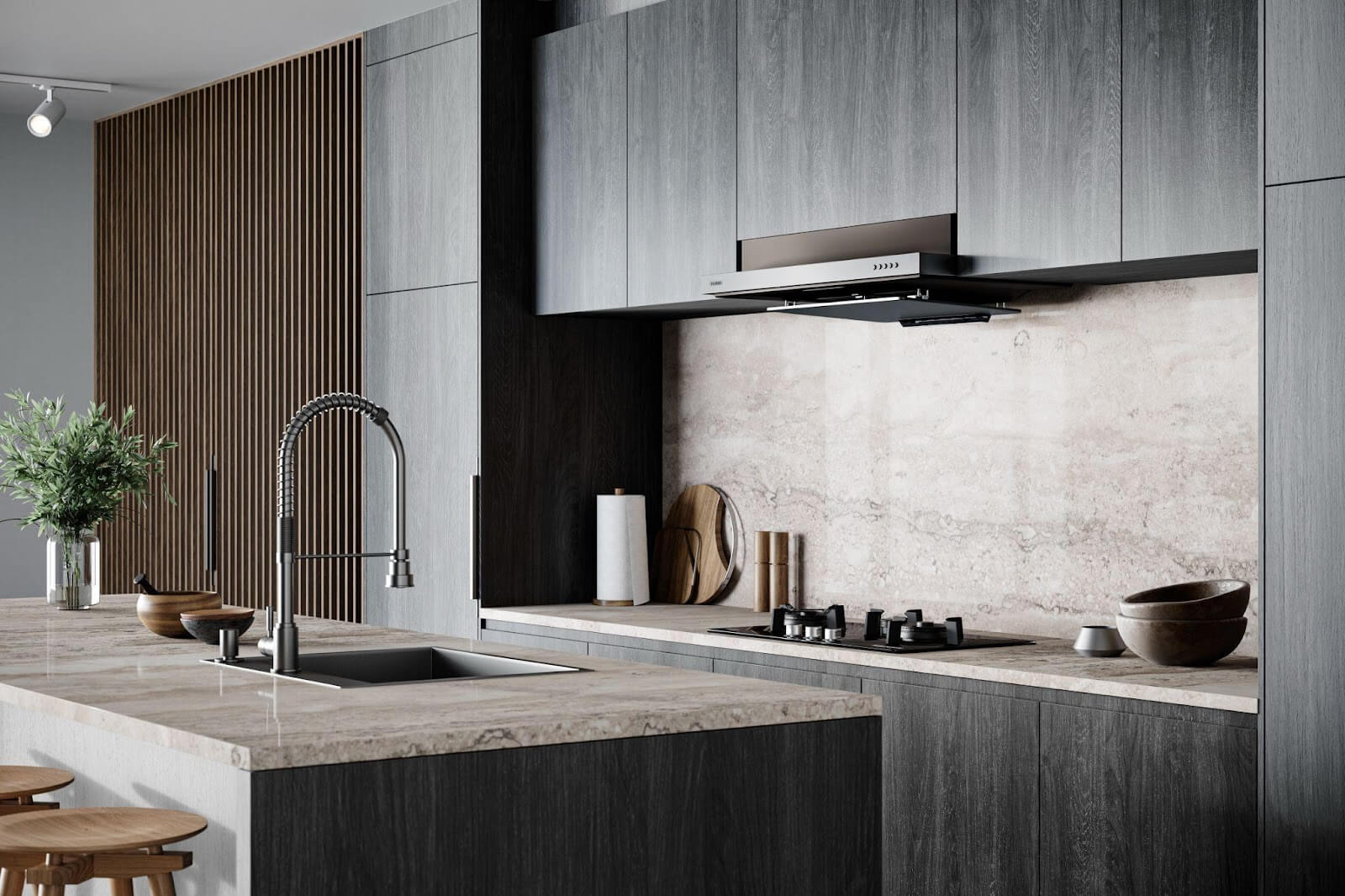 When designing or renovating a kitchen, choosing the right sink is crucial for both functionality and aesthetics. Two of the most popular options are top-mount and undermount kitchen sinks. However, both of these kitchen sinks have their advantages and disadvantages, making it all the more important to differentiate between the two to make a well-informed choice. Therefore, we at FUJIOH will be exploring these two types of sinks so that you can decide which is best suited for your needs.
What is a Top-Mount
Kitchen Sink
?
A top-mount kitchen sink, also known as a drop-in sink, is installed by being placed into a cut-out hole on the countertop. This means that the sink's rim sits on the countertop, and the basin sits inside the cut-out hole. Top-mount sinks are also a popular choice for many kitchens because they are easy to install and are generally less expensive than other sinks.
What Are the Pros and Cons of Top-Mount Sinks?
Featured Product: Top-Mount FZ-SN50-D39T Kitchen Sink Double Bowl
One of the advantages of top-mount sinks is that they require less countertop modification, so they are an excellent choice for a budget-friendly kitchen remodel. Top-mount sinks are also easier to replace or upgrade as they are not locked in place to the countertop. Moreover, the sinks can be easily cleaned since everything is visible and accessible. Take, for example, our Top-Mount FZ-SN50-S53T Kitchen Sink that comes with condensation-resistant coating, X-Shaped drain lines and rounded corners, all of which play a part in ensuring that your kitchen sink can be easily cleaned and maintained.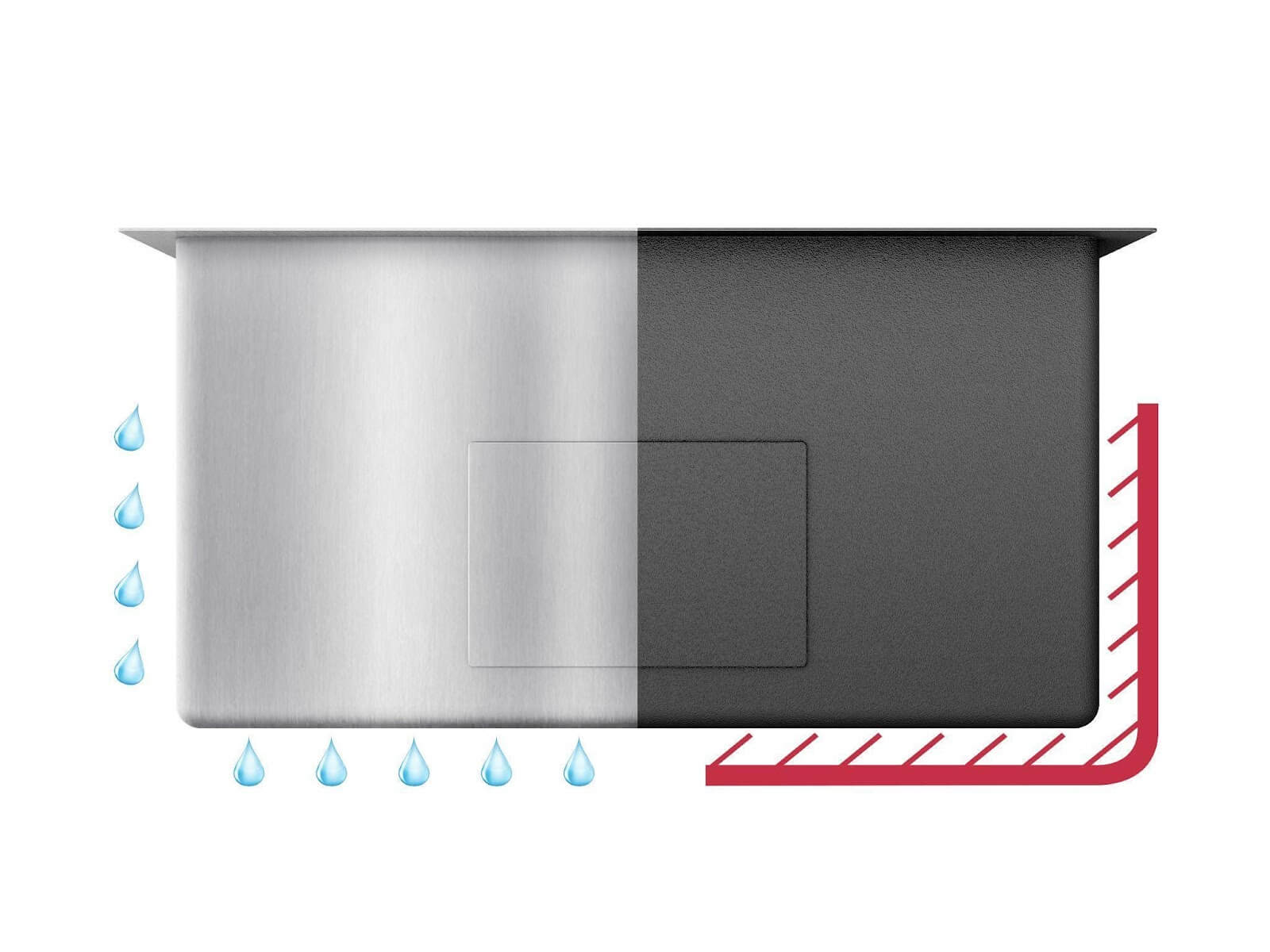 However, one of the downsides of top-mount sinks is that the rim can accumulate dirt and grime, making them harder to clean than sinks that deliver a seamless undermount experience.
What is an Undermount
Kitchen Sink
?
An undermount sink is installed underneath the countertop, creating a seamless transition from the countertop to the sink basin. The sink is secured to the bottom of the countertop, creating a streamlined look and making cleaning the surrounding countertop easier. On the other hand, it's important to keep in mind that the installation process for undermount sinks is more complicated and generally requires professional installation.
What Are the Pros and Cons of an Undermount
Kitchen Sink
?
One of the advantages of undermount sinks is that they don't take up counter space, which can be an advantage in smaller kitchens, even allowing more room for accommodating your kitchen tap. Cleaning is also more straightforward as there is no lip or rim to catch dirt and grime.
However, as mentioned, undermount sinks can be more challenging to install than top-mount sinks since elements like special mounting clips are involved. They are also generally more expensive than top-mount sinks, and they will require precision during installation so that various countertop materials can securely support the weight of the sink.
Which is Better: Top-Mount or Undermount Sinks?
When deciding between a top-mount and an undermount kitchen sink, there are a few factors to consider.
1.
Cleaning
One of the main differences is the ease of cleaning the sink and the countertop. When it comes to sink cleaning, the clear visibility of all working areas of the sink and the distinct separation from the countertop, as seen in a top-mount sink, makes cleaning slightly more straightforward. This is compared to the undermount sink, where there is a gap between the top of the sink as it joins with the countertop — should it not be perfectly sealed, this tends to be a magnet for food buildup, and water may also get in it, necessitating the replacement of the caulk to maintain a clean and hygienic sink. 
On the other hand, when it comes to countertop cleanup, an undermount sink reigns supreme. This is because its standout feature, which is the absence of a lip or obstruction around the sink, makes it easy to clean the countertop and effortlessly sweep food particles from the counter directly into the sink. While some top-mount sinks have lower-profile rims that facilitate this action of sweeping food into the sink, they still can't match the seamless experience of an undermount sink.
2. Countertop Space Required
Another factor to consider is the amount of countertop space required. A top-mount sink takes up more countertop space, as the rim of the sink sits on top of the countertop. An undermount sink, however, does not have a rim, allowing for more countertop space. This provides greater flexibility and efficiency in your kitchen design, including accommodating the placement of the kitchen tap.
3. Ease of Installation
Finally, installation is also an essential factor. Top-mount sinks are easier to install, as they are placed into the countertop hole. Top-mount sinks are also easier to replace as long as the new sink matches the size and shape of the existing cut-out in the countertop to ensure a proper fit. Undermount sinks require a more complex installation process and may need to be installed by a professional.
Get Top-Quality and Reliable
Kitchen Sinks
 from FUJIOH 
Singapore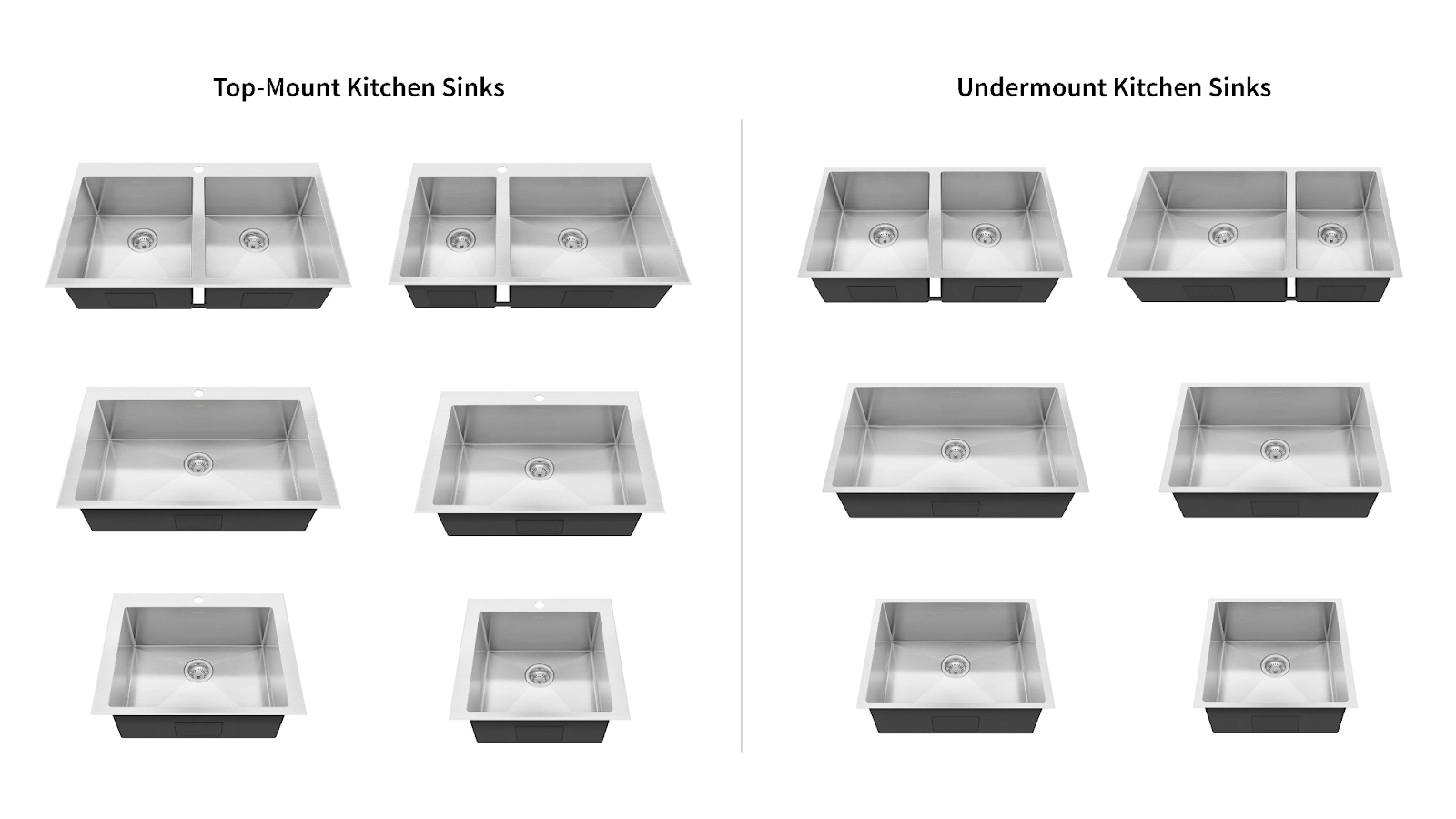 Ultimately, choosing between a top-mount and an undermount kitchen sink depends on personal preference and kitchen design. Both types of sinks have advantages and disadvantages, and it's important to consider factors such as ease of cleaning, countertop space, and installation before deciding.
If you're looking for high-quality and reliable kitchen sinks in Singapore, look no further than FUJIOH. Our sinks are crafted with durability and practicality in mind. We offer a wide range of sink configurations and sizes, including both top-mount and undermount options, so you can find the perfect sink to fit your kitchen design and needs. Trust FUJIOH for all your kitchen sink needs in Singapore.
If you require more information on our kitchen sinks, feel free to get in touch with us at FUJIOH Singapore or email us at fit@fujioh.com.sg.