colour is key: how to choose a stylish cooker hood
Featured Product: FUJIOH Cooker Hood FR-FS2290
A cooker hood is essential to your kitchen's design and functionality. Not just any practical kitchen appliance that helps to keep your kitchen clean and free of smoke, it can also be a statement piece, adding to the overall aesthetic. As such, the power a cooker hood has to make a statement and elevate the look of the kitchen cannot be overlooked. However, with the wide variety of cooker hoods to choose from, finding the perfect one can be daunting. So, where do you start? We at FUJIOH say that beyond having the fundamental features to remove the oil fumes and being easy to maintain, choosing the right colour for your cooker hood is just as crucial to ensure that it complements your style and takes your kitchen design to the next level. In this article, we'll guide you through choosing the perfect cooker hood so that it becomes the star of your kitchen.
Tips on Making a Statement with the Right Cooker Hood
As mentioned, a cooker hood is an essential appliance that improves the air quality in your kitchen. But if you look beyond the standard tips on choosing the right cooker hood for your home, you'll realise that with a little bit of design consideration, it has the potential to be a stunning kitchen feature. To ensure that the cooker hood becomes a standout piece, consider the following:
1. Choose the Right Model and Design
Before you can even consider the colour of your cooker hood, you need to choose a suitable model and design. The first thing to consider is the size of your kitchen and the cooker hood that would be best suited for it. You also need to consider the design and style of the cooker hood itself. There are different styles of cooker hoods, including slim, chimney, and inclined designs, each with its own unique features that cater to different kitchen layouts and preferences. Slim hoods are an excellent option for those with limited space, as they are compact and easy to install, while chimney hoods, like the 900MM Chimney Cooker Hood with Slim Panel, are a popular choice for their sleek and modern appearance. Inclined hoods like the FR-SC2090 900MM Inclined Design Cooker Hood, on the other hand, are designed to provide optimal suction power and are ideal for those who cook frequently. To determine which cooker hood design is best for your kitchen, assess your kitchen's layout and requirements carefully.
2. Assess Your Kitchen's Style
After you have selected the appropriate model and design for your cooker hood, the next step is to consider your kitchen's overall style. This includes the size and layout of your kitchen and its design scheme.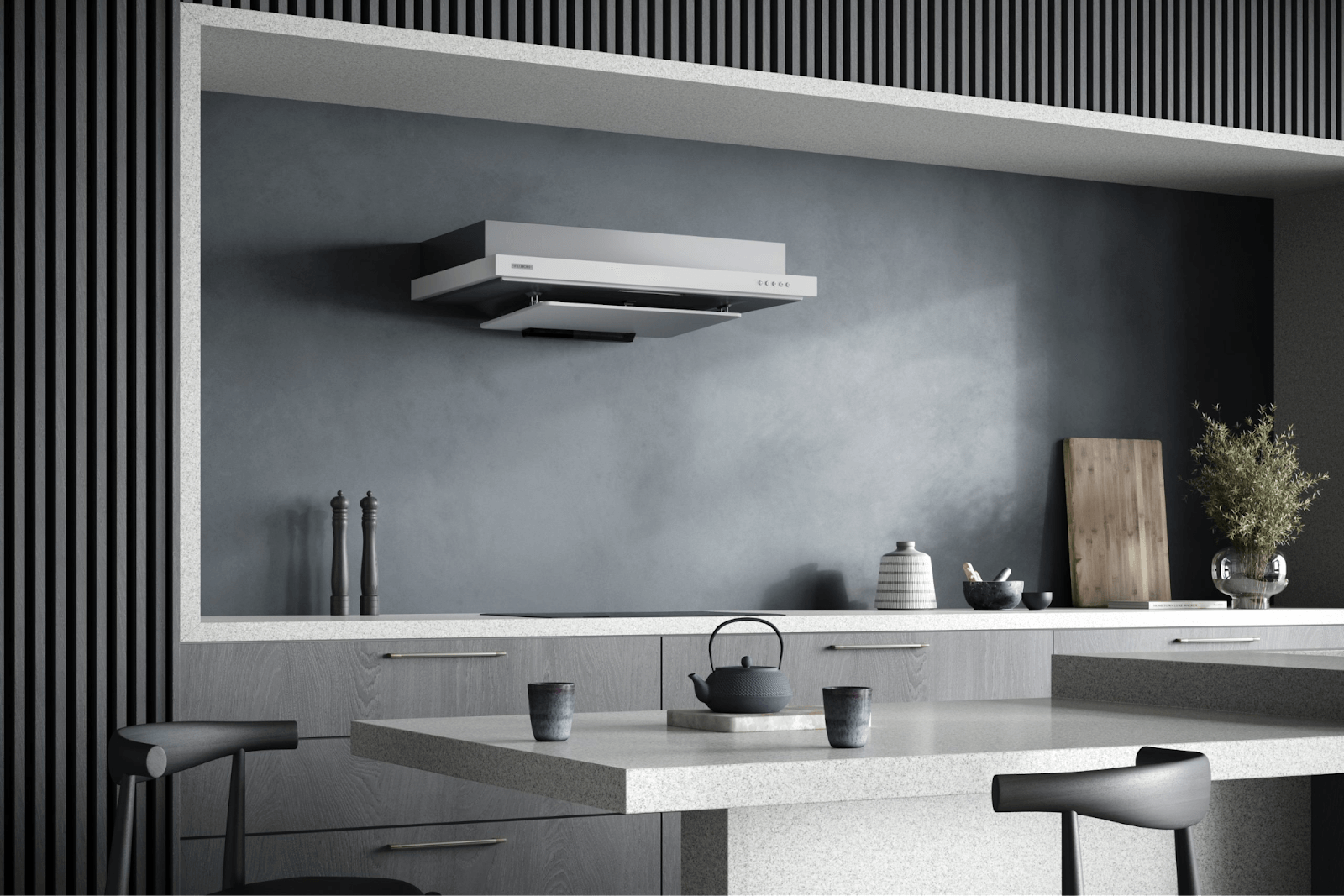 Featured Product: FUJIOH Cooker Hood FR-FS2290 in Texture White & Silver Metallic
For instance, if your kitchen has an open layout, you might want to choose a quieter cooker hood to reduce noise pollution. A larger kitchen may also require a larger cooker hood that can efficiently filter and remove smoke and odours, while a smaller kitchen may need a compact hood that doesn't take up too much space.  In addition, you should take into account your kitchen's style and think about how the cooker hood can enhance it. For example, if your kitchen has a contemporary or modern style, you might opt for a cooker hood with clean lines and a minimalistic design. This way, you'll end up with a cooker hood that not only looks great but also functions efficiently in your kitchen.
3. Explore All the Colour Options
When it comes to choosing the colour of your cooker hood, the options are endless. Consider colours that complement your kitchen's existing colour scheme, or choose a bold colour that stands out and adds visual interest. The safe choice? Black, white, and stainless steel are classic colour choices that work well in most kitchens. 
Homeowners should also consider the hood's finish, whether matte and textured or glossy. Matte finishes give a sleek and modern look, while glossy finishes give a more polished and classic look.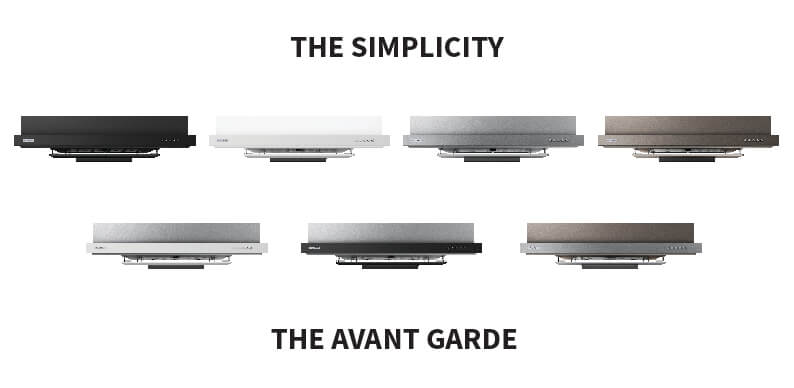 Featured Product: FUJIOH Cooker Hood FR-FS2290 in 7 colour variations
FUJIOH offers a wide range of high-quality cooker hoods in various colours to match your kitchen's style. Our 890MM Slim Cooker Hood FR-FS2290 RP/VP, for example, comes in seven different colour variations — three dual-toned models and four monotone models. From The Simplicity range to The Avant-Garde range, this cooker hood model boasts a new look by professional designers and a newly developed hood structure by Japanese engineers, allowing you to enjoy a high oil capturing ratio up to 92% and breathe new life into your cooking space. Whether you're looking for something subtle or bold, FUJIOH has the perfect cooker hood for you.
Get Stunning Cooker Hoods in Singapore from FUJIOH
A cooker hood can be a statement piece in your kitchen, and choosing the right colour is crucial in making it stand out. With FUJIOH, you can get stunning cooker hoods in Singapore that are both practical and stylish. As a leading provider of high-quality home kitchen appliances, our cooker hoods are designed to not only perform their practical function but also add to the overall aesthetic of your kitchen. We offer a wide range of hoods in various colours and designs to suit your needs and style preferences. With FUJIOH, you can be assured of quality and durability, as our products are made with the latest technology and materials. 
If you require more information on our cooker hoods, feel free to get in touch with us at FUJIOH Singapore or email us at fit@fujioh.com.sg.